3,500+ Miles ZERO Flats In A Super-Light Package?
Unicorns Do Exist!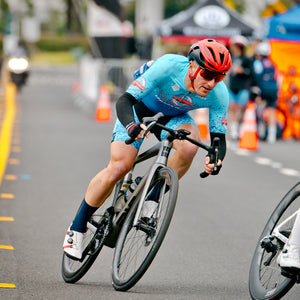 Our coach and friend, Brian McCulloch of Big Wheel Coaching, put in some big miles on our Formula Pro Super Light tires, testing them in various riding situations. Find out his verdict below.
By: Brian McCulloch
Big Wheel Coaching
I don't know about you, but I have a strong disdain for flat tires. Like you, my ride time is precious, and spending it bent over a wheel trying to fix a flat, especially in the summer swelter, is sure to make steam radiate from my ears.

So when I was presented with the opportunity to be one of the first riders on the new Formula Pro Super Light HL tires, I was skeptical.


You see, I rarely choose "racy" tires for racing or training because, in my world, playing catch-up is costly, and in most cases, you simply never close the gap. You end up "out the back" and out of contention. That's why, when I choose a tire for MTB, gravel, or road riding, I always keep this sage wisdom in mind: "You can't win bike races, or prepare for them, stopped on the side of the road or trail."

In an industry full of marketing hype and an overuse of terms like "SL" or "super light," I am here to tell you that the Formula Pro Super-Light tires are LEGIT. After 3,500 miles of testing that included criterium racing, multiple road races (one of which I won!), multiple Gran Fondos, some BWR San Diego style dirt, and seemingly endless training miles in both wet and dry conditions, I finally had to change the rear tire because it was threadbare. In that time, I had ZERO flat tires, which makes me really happy! In fact, the front tire is still mounted to my ENVE 3.4 wheels and going strong at nearly 4,000 miles!

So, what's the takeaway? Despite my initial speculation surrounding any product labeled "Super Light," I am here to say that you should strongly consider the Formula Pro Super Light tires for any of your road riding needs. Although they are marketed for Segment Chases, Hammerheads, and Racers, they most certainly can be used for "all-purpose" riding.

Thanks to IRC, there is going to be a box labeled "super light" under my workbench where I keep my stock of road, gravel, and MTB tires. These Formula Pro's ROCK!

Until Next Time, Be Safe, Train Hard, & Have Fun!
Shop the IRC Formula Pro Super Light Tires here!