IRC Unveils High-Performance Tire Designed by BMX Champion Sam Willoughby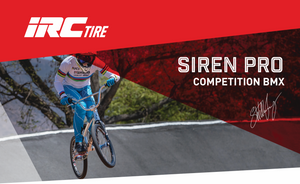 DAVIS, CA—After more than three years in development, legendary, Japanese, bicycle tire maker IRC Tire is ready to release its new Siren Pro BMX race tire. Designed by former World Champion and Olympic silver medalist Sam Willoughby, the tubeless-ready tire offers racers the highest performance on any track. 
"Our goal was to make the lightest, fastest-rolling tire in BMX. The Siren Pro's subtle 'Coke-bottle' shape results in minimal ground contact when rolling in a straight line. Combined with IRCs special, fast-rolling compound, the tire rolls like no other. And since BMX also requires exceptional grip when turning and out of the starting gate, we fine tuned the side tread, adding a lot of small, rigid grooves that bite without flex. The tread also wraps around farther than most, allowing you to turn harder and tighter," Willoughby said. 
With a 120 TPI casing, foldable Aramid beads and a high-grip compound tread, the Siren Pro can be used with or without inner tubes. When mounted to a tubeless-ready rim and used with sealant, the Siren provides lower rolling resistance, more consistent contact with the ground and a better ride feel compared to tires with inner tubes. 

Reinforced sidewalls keep the tire casing from flexing while cornering, ensuring a perfect line through turns and helping to prevent wash-out. A supple center tread conforms to the riding surface, smoothing out bumps, while the high-rebound rubber compound gives the Siren Pro incredibly low rolling-resistance. Available in 20 x 1.75 and 20 x 1.90 sizes, they weight 340 grams and 385 grams respectively. 
"You may want to bump up that gearing because you're going to be cruising along quicker than ever with these tires," Willoughby said.
Set for release in mid-July, the Siren Pro will have a suggested retail price of $39.99. For information, visit IRCbike.com.
---
About IRC Tire
Founded in 1926 in Japan, IRC Tire has more than 90 years of experience developing and manufacturing tires for all types of cycling including BMX, road, gravel and mountain biking. IRC owns seven manufacturing plants worldwide. For information visit IRCtireUSA.com
About LiFT creative studios 
LiFTcs is a full-service marketing agency that provides branding, creative, PR, sales and digital services along with a singular commitment to helping its clients achieve their goals. LiFTcs.com