Race Report: 4-For-4 At CA MTB Endurance Big Bear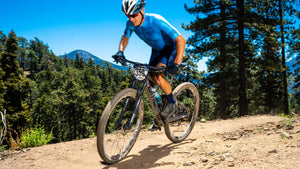 Words: Brian McCulloch
Photos: Wild Glass Photo
It was a great day at the races last Sunday, earning a fourth consecutive win in the CA Endurance MTB Series. And as cool as that was (which I will get into), I want to lead this Race Report with some gratitude… I am so THANKFUL to be a part of the IRC Crew!
The more I race MTB's, the more I am convinced that although fitness is important, equipment, namely top-shelf, durable, and high-performing equipment plays a significant role in race-day performance. So THANK YOU to the IRC crew for keeping me rolling fast!!!
On to the report! 
Details: 40-Miles, 5,000', 2:57 Race Time, 1st Place
At 40-miles and 5,000' of elevation gain on tap for the day's race, most of which is single-track, anyone who knows this course would say it is a "leg-breaker". But what makes the Big Bear course even more challenging is that it starts at 7,000' elevation and most of the race takes place above 8,000 as it begins with a 2.5 mile climb from the start-line…
And being as I have never been accused of being a stellar climber, you can imagine there was a little nervousness and apprehension on the start! Luckily the first climb went well and I made it over the top with the three leaders, which I chalk up to two things:
A good warm-up! And…
The fact that my wife spoiled me by meeting me at the top of the hill with a "tall-boy" bottle of 50/50 water and Monster Hydro. This allowed me to start with a half-full water bottle and avoid carrying the weight up the hill! 
I had to get her ice-cream for that one! 
Fast forward a bit, we rode some fast fire-road, ripped a few downhills on loose Decomposed Granite and then headed to the first single-track section. By that time it was just me and one other rider, a young fit dude who came from the highlands of Arizona to put on a clinic for the California MTB'ers… Not today, I thought. 
I stomped on the pedals and pushed hard for the entire single-track, eventually finishing lap one with a 3min. lead. Anything can happen in an MTB race so I was always wrestling to do two things… Minimize mistakes AND "keep the bike together!" 
I would later find out that many riders ended their days early with pinch flats and tire problems. No such issue for me, it was full-gas racing from the gun, just the way I like it! I knew fueling for this race would be a challenge given all the single-track and technical sectors, and I was right, it was nearly impossible to take my hands off the bars during the race to get food. Good thing I had plenty of liquid calories!
I went on to finish over six minutes in front of second, but it was no cake-walk. 
I was constantly vigilant of those tire-tearing rocks and washed out single-tracks that could send me over the edge of the trail that seemed to come around every corner. With BWR on the horizon, I needed to go hard and keep the intensity high all race long!  After crossing the line in a sub-3hr race time, I warmed-down with a few of our BWC Athletes to get their "tales of the tape" on their races, ate some food, rehydrated, and hit the podium.
No sooner had I got home with the family from a day at the races did Séamus The Nugget want to get his own ride in! 
So we saddled-up hit the grocery store by bike and got some Thai food on the way home. Racing is RAD and being on the podium is a BONUS, but… Hearing The Nugget shriek, "FASTER PAPA" as we ride down the road numbs the pain in my legs. So there is always time for another ride! 
Until Next Time- Be Safe, Train Hard, & Have Fun!
Brian McCulloch 
Big Wheel Coaching
www.BigWheelCoaching.com 
Upcoming Races:
CA MTB Series Final Round: Sunday 6/20
The ENVE Grodeo (Gravel): 6/25-26
The Belgian Waffle Ride San Diego: 7/18