Peter Stetina's Tire Choices for a Summer of Gravel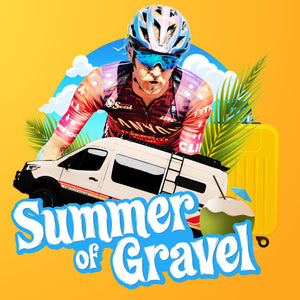 Peter Stetina is one of the most successful gravel privateers, in the mix for the win at all the major races on the gravel calendar. Peter is meticulous with his equipment choices, as he knows the wrong equipment can mean the difference between the podium and a DNF.
 

We checked in with Pete to see what he is planning on running for his upcoming races this Sumer.
---

UNBOUND
At unbound Gravel, Pete chose the Boken Doublecross 700x42. This all-around performer turned out to be the right choice because it rolls fast on the chunky Kansas roads and let Pete power through the mud. 
---

BWR: North Carolina
This edition of the BWR featured over 12,500 vertical feet. The course was relatively smooth, but with frequent chances of rain, you needed something that could do it all. The DoubleCross was the call again, but this time in the weight-saving 38mm width. The DoubleCross carried Peter across the line for his 4th BWR victory.
---

Oregon Trail Stage Race
Oregon Trail is one of the events Pete looks forward to all year. 270 athletes compete over a 5-day stage race. He chose an IRC Geo Claw 700x50 on day one and IRC Doublecross 700x42 on days two through five. 
---

Crusher in the Tushar
The crusher course is dryer and looser than in previous years, but the descent remains rough. IRC Boken DoubleCross 700x38 is the call for traction and volume.
---

Leadville 100
At Leadville Pete will be riding the tire he helped design, the Geo Claw in the 29x2.2 size. Pete says "This has every small detail I want in a MTB tire, I used this tire to break the all-time records on both the White Rim Trail and Kokopelli Trail. A modern tire for technical trail without sacrificing speed."
---

SBT GRVL
The SBT GRVL course is heavy on dirt, but it is hard-packed and fast. Pete is going to ride the Boken DoubleCross 700x33. The tread is more aggressive than the 38 and 42mm versions, but it is a much lighter tire. 
---

Gravel Worlds
At Gravel worlds, Pete's choice is the Boken 700x36. For this course he wants to lighten up a little bit and you don't need the more aggressive tread of the DoubleCross. The Boken 40 gets an honorable mention for riders who want a little more volume.
---

Vermont Overland
Without really knowing what to expect from this event, Pete is going with his stand-by, the Boken Doublecross 700x42. This is the tire he spends the most time on, both training and racing. Pete says "It's what I'm most comfortable with when I don't know what I've gotten myself into."