Riding, Training, and Coping during the Covid-19 pandemic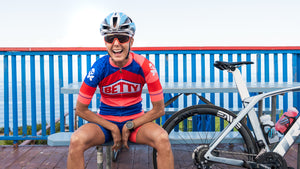 We have all had to alter our lives as a result of the Covid-19 pandemic. Kristin Mayer, IRC Ambassador and Founder of Betty Designs is no different.
Originally, Kristin's big goal for this year into 2021 was the BWR Tripel Crown.
"It scares the sh!t out of me and is something I want to see if I can complete," said Mayer.
Like many of you, Kristin was incredibly motivated and optimistic some of her events would happen this fall. Starting in March when things went down with Covid, she and her coach decided to go into a maintenance mode that meant staying pretty fit, but not overdoing things. This way, if a race made it's way onto the calendar she could spend 4 weeks hitting it hard in time for a late season start line.
Kristin's priorities typically are pretty balanced between family, work + staying fit so she did not feel the need to jump on the bandwagon of doing extreme Everesting or anything that would make her overly exhausted. With the Betty's (Brand Betty Triathlon Team) always watching, she wanted to make sure she set a good example, but not take anything to extremes.
Not only has the pandemic altered her racing plans but Kristin was faced with unexpected changes emotionally and within her brand. Spring into very early summer her emotions were a gnarly rollercoaster. She had to completely restructure her business and figure out if she was going to survive it all. It seems since the pandemic hit there were new supply & demand challenges every week. She is beyond thankful the demand for Brand Betty has gone through the roof during these uncertain times.
Every summer Kristin typically takes a couple weeks off formal training however, this year she did not plan for it due to Covid. On top of it all she is about to become and empty nester as her son is heading off to college in a few weeks. All of these things have led her to take a 3 week(ish) sabbatical from her formal training to get through her transition and focus on her fitness, business and her family. While she is pretty sure the Tripel will have to wait until next year she is okay with it and will still ride her bike.
---
You can find Kristin riding up and down the San Diego coast on her IRC Formula PROs, and shredding the North San Diego gravel on her IRC SeracCX Sand tires. 
---
All Photos @themattwphoto